Raw Meat Presents Loading *UPDATE*
Posted July 5th, 2012 by Raw Meat
*UPDATE*
Due to some serious issues, unfortunately Grindesign will not be able to paint live on the night. But fear not, good ol Mintees hero, Nils (NVasion) will be pleasing your eyes with live painting on the Thursday!

---------------------------------------------------------------------------------------------------------------------

I guess this is close enough now to start posting about it.
Im hosting a night called Loading, here in London, England. Its going to be a night if live music, art, and video games.
I have Mr Gauky and Grindesign painting live on the night, as well as artwork contributions for the gallery from such artists as Craig Robson, Uzi, Michael Shantz, Gaunty, Killer Napkins and tons more.

Details below.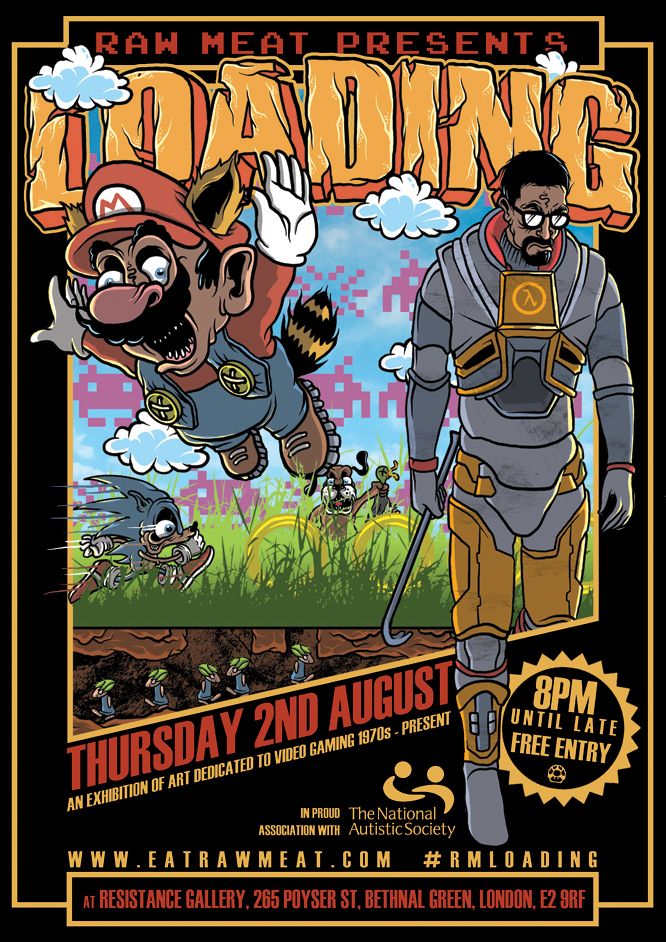 Venue: Resistance Gallery
265 Poyser Street
Bethnal Green
London
E2 9RF

Date: Thursday 2nd August
Time: 8.00pm Free Entry

Raw Meat Presents…….Loading.

The Resistance Gallery play host to the next live art event by Raw Meat, Loading. An evening of art dedicated to, and inspired by video games from the 1970s up to the present day.Whether you are watching the live painting by such artists as Mr Gauky or Grindesign, walking around the exhibit viewing over 30 artists work, including Michael Shantz, Godmachine, Doyle Raw Meat, Killer Napkins and more, or simply taking part in one of the gaming tournaments, there is something for everyone.

Selected artists will also be contributing work to sell at auction to help raise funds for The National Autistic Society.

MUSIC: Live music on the night, courtesy of8bit noise merchant, Chipzel

Live STREET FIGHTER: UK luchas, Lucha Britannia will also be present on the night doing their thang set to Street Fighter!

Cosplay Competition: Come in fancy dress based omn your favourite video game, and maybe you could walk away with some sweet prizes!

This exhibition is in association with The National Autistic Society, and sponsored by 8-Bit Zombie and Dirtyface.

http://rawmeatloading.blogspot.co.uk/
Featured Brands
Coming Soon!